How to Choose the Perfect Mother of the Bride Shoes
Weddings can run for hours.
Are you willing to subject your feet to endless torture by wearing an uncomfortable pair of shoes in the name of fashion? The opposite, however, is just as unthinkable.
As the mother of the bride, you are as much of a star as the bride herself. This means wearing unflattering shoes would make a bad impression. It's even worse when your outfit is ruined for the sake of comfort and practicality.
But the reality is that the choice of the mother the bride shoes is often a dilemma between all-day comfort and elegance.
This used to be the case.
In this article, you will know how to choose the best pair of shoes for the mother of the bride without sacrificing comfort over elegance and vice versa.
Check out our Boho Wedding Dress collection today.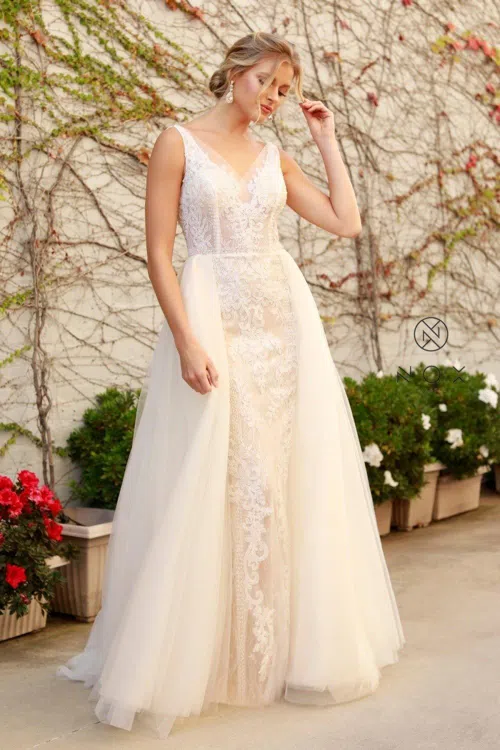 Remember these tips…
1. When the shoe fits, not if
Go too big, and you'll end up stepping out of your shoes and embarrassing yourself. Go too small, and you'll become a cliché—beauty is pain. No?
Make sure the shoe fits perfectly with plenty of room for your toes to wiggle around and the rest of your feet enclosed in comfort. Beautiful doesn't have to be painful.
Speaking of toes, your digits would thank you for looking out for their welfare with Imagine, an open-toe pump by Vince Camuto Daphne with floral ankle straps. Another great option is the Steve Madden Satire Strappy Sandal which is designed for the dance floor and goes great with a neutral-colored outfit.
Check out our R&M Richards Dresses collection today.
2. Don't get boxed or squared in
Boxy or squared-toe wedding shoes look heavy and clunky. Not the best choice if you're aiming for delicate and feminine. The style does nothing for your legs either.
To elongate your pins, choose mother of the bride shoes with pointy toes and high heels like the Menbur "Crusy" Glitter Pointy Toe Pump. The pointy style gathers your toes in a comfortable embrace while the mesh and bow details add sophistication to your outfit.
The embellished d'Orsay Pump by Vince Camuto, on the other hand, brings sparkle to your ensemble with its lines of sequins and beads. There's something really sexy about an exposed foot arch too.
 Check out our Plus Size Mother of the Bride Dresses collection today.
3. Heel not keel
Stiletto heels are sexy. No question about it.
But if you end up with rolled ankles and swollen feet even before the wedding celebration ends, reconsider your choice of footwear. This is especially true if you're not used to wearing them.
Make sure you don't keel over because of your high-heeled shoes.
The sexy Nina Cherie Illusion Sandal sports a medium-height heel that offers comfort while staying on trend with its front bow.
Need to add a few inches more? The Steve Madden Clearer Pump is a great choice. Even with a 4-inch heel, your feet would feel comfortable with its column heels that offer better stability.
Check out our Short Prom Dresses collection today.
4. Care about where
Where the wedding will be held matters.
You don't want to wear 5-inch stilettos at a garden or outdoor wedding where you'll be constantly sinking into the earth and fighting to stay upright.
The Badgley Mischka Romance Sandal with its wedge sole is a perfect choice. You'll always have an even and balanced footing in this pair of shoes.
In a countryside setting, you'll fare much better in court/pump shoes than in sling-backs. This makes the "Rouge" Pointy Toe Pump and the "Gorgeous" Crystal Embellished Pointy Toe Pump from Badgley Mischka two of your best options for such a wedding venue.
The sparkly embellishments will add sparkly perfection to your outfit too.
Check out our Long Prom Dresses collection today.
5. Pay a little more
It's your daughter's wedding, a big day that deserves a bit of indulgence. So why not splurge on high-quality mother of the bride shoes? The price tag may make you squirm a bit, but you'll discover that paying a little more will get you a pair of well-made, comfortable shoes.
Never spent more than $150 on shoes? The Pelle Moda Gretel Sandal would be worth the investment with its petite heel that ensures comfort and prevents sore feet. Its sparkly embellishment also says you're ready to party.
Check out our Glitter Dress collection today.
From your head to your toes…
The mother of the bride should look fancy and elegant from head to toe. So, aside from choosing the best mother of the bride dresses, make sure you choose a pair of shoes that goes well with your outfit, looks fashionable and feels comfortable when worn all day. When you do, you can afford to stand or dance all day without the pain and discomfort.
 Check out our Sequin Dresses collection today.