5 Tips for choosing a Mother of the Bride Dress that Hides the Belly
If you're like most women, you want to look good on this important day. You want to feel confident and beautiful in front of your friends and family—and even more importantly, before the eyes of your daughter.

However, one very big obstacle might be in the way: Your belly.

While it is always important to be comfortable in your own skin, Mother of the Bride outfits are all about making you look effortlessly beautiful and There are plenty of tips and tricks for hiding belly fat while still dressing up.
1. Choosing the Right Clothes and Colors
If you're an apple-shaped woman, you'll want to wear a dress that accentuates your upper body. We recommend wearing a dress with long sleeves and an A-line skirt, which will make the chest and hips look larger. This makes the midsection look smaller. Avoid wearing tight clothes, as this will make the belly look even bigger.  If you want to wear a skin-tight dress, vertical lines on your body will help to balance out your shape. For example, a tunic dress with long sleeves is great for hiding the mid-section. 
In addition to choosing the right clothes to help you look slim and toned, you should also consider the color of your dress.   
Dark colors like navy, burgundy, and Indigo, as well as polka dots and other tiny dress patterns, are encouraged. These colors elongate the appearance of the wearer and can help them appear slimmer. Brighter shades will also tend to have an elongated effect on the person's appearance.  
Apple-shapes should avoid wearing dresses with large patterns, prints, and bright colors. This will help you to minimize the appearance of your midsection. Dividers, such as shirts or skirts tend to attract attention, while long dresses that drape well on the body tend to be flattering for apple shapes. Elastic materials like Jersey are not recommended, as they tend to protrude lumps and bumps. Instead, choose good fabrics such as cotton, silk, or polyester mixed fabric. 
2. Direct Attention to Shoulders and Arms
Check out our Long Mother of the Bride Dresses Collection Today.
Mother of the bride dresses should show off shoulders to highlight them and make the wearer seem slimmer. If you are feeling insecure about your arms, opt for a strapless dress or a one-shoulder cut dress. You can also accentuate your arms with clothes that have horizontal or vertical stripes on them.  Dresses with shoulder pads are also very flattering, especially ones that nip in at the waist. 
One way to accentuate your arms and make them look toned is by wearing a dress with horizontal or vertical stripes. Strapless dresses and halter necklines work well for this type of body.  Choose a dress with prints, such as flowers or other small patterns. These kinds of dresses help to divide the body and make it look slimmer. 
In addition, you could wear a waist cincher under your dress to slim down the middle and enhance your curves. This will also help to improve posture and give an overall more elegant look. 
If you're going to a wedding, try to wear a dress that has lace in the design, which tends to slim down women and highlight their figures. If you want to accentuate your chest area, you could also wear a V-neck or scoop-neckline style dress; however, make sure not to wear V-necks that go too low as they can make you look like you're showing off more than necessary.  
3. Dress up with Details and Draping Styles
For a beautiful and flattering look, choose dresses with feminine details. Flowing cap sleeves that accentuate slim arms are perfect for making your shape stand out in the right dress. The use of panels or pleats to elongate the torso may help, but avoid waistlines that are bulky. The perfect look will be found if you experiment with different styles until it's just right for your body type.
A dress with details such as embellishments or contrasting colors around the neckline is another great option to distract wandering eyes from your midsection.  
If you are wearing a knee-length dress, make sure it has an A-line hem. The A-line cut will make the legs seem longer and your body look slimmer.  If you want to wear a dress that hits just above or below the knee, go for one with side pleats or vertical panels. Again, these details have the effect of lengthening the torso and minimizing any unwanted attention on your midsection. Ladies with larger abdomens should avoid dresses with embellishments around the waist area as they can draw more attention to this area. Instead, opt for dresses with cap sleeves or contrasting color panels around the chest area to distract from the middle. 
Dresses with soft draping or ruching can help you out too! An empire waist dress that cuts right underneath the bust, but slightly above where it starts to flare around your midsection will accentuate all of its most flattering features while also helping to camouflage any problem areas on your stomach! 
For the mother of the bride who wants to show off those long and beautiful legs, a knee-length or tea-length dress will work wonders. When wearing a knee-length dress make sure you wear a timeless style like solid color chiffon and lace dresses instead of ones with distracting prints or shiny embellishments. If you know that your legs are the best part about yourself, then wear them as much as possible and flaunt those lovely strutters. 
4. Tea Lengths and Pant Suits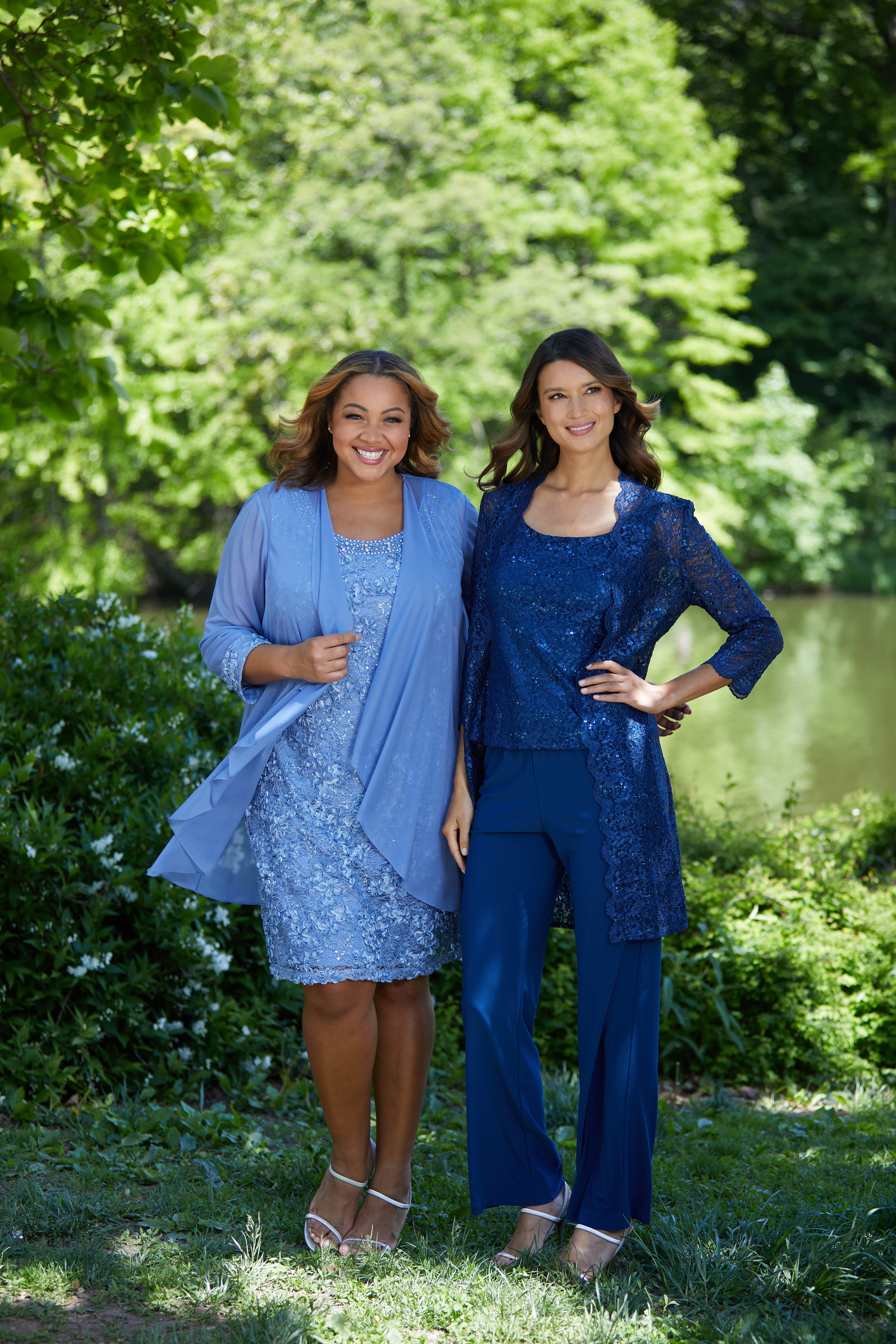 Check out our Tea Length Mother of the Bride Dresses Collection Today.
It's time to get decked out for this year's mother-daughter event! You can either go traditional in a dress or opt for something more modern, like pants. If you're looking at the latter option then make sure it has soft fabric that drapes beautifully around your body and flows well when walking.
For any mother of the bride out there who wants to wear pants instead of a dress but still show her pretty side, make sure they are fitted well at the waistline with no wrinkles around the stomach area. 
Tea-length dresses are a great option for the mom who wants to wear something fabulous, but still, feel comfortable. If you have long legs or want to show off some skin then this is perfect! There's no need to worry about wardrobe malfunctions either - tea lengths will cover just enough so there aren't any issues with exposure at your special occasion event (and we all know how important those things can be). 
5. Florals, Jackets, Cocktails, and Sleeves
On the other hand, if you're looking for an easier way to camouflage the arms make sure your dress has a jacket. This gives off more of that tailored yet still feminine vibe! Try wearing an evening or zip-up jacket with any dress. The more tailored the look of the garment is made the better because it will hide those areas where skin might show through. 
A floral pattern is a great way to personalize and customize the mother of the bride dress. Floral patterns can be really pretty for those celebrating an outdoor event like weddings. Floral Patterns are always a good choice for the mother of the bride because they can be pretty and natural. If you want to stay away from too many patterns, just make sure that your print isn't oversized or tiny- it should be mid-sized in scale. A medium-scale print in soft flowers will give you the best results!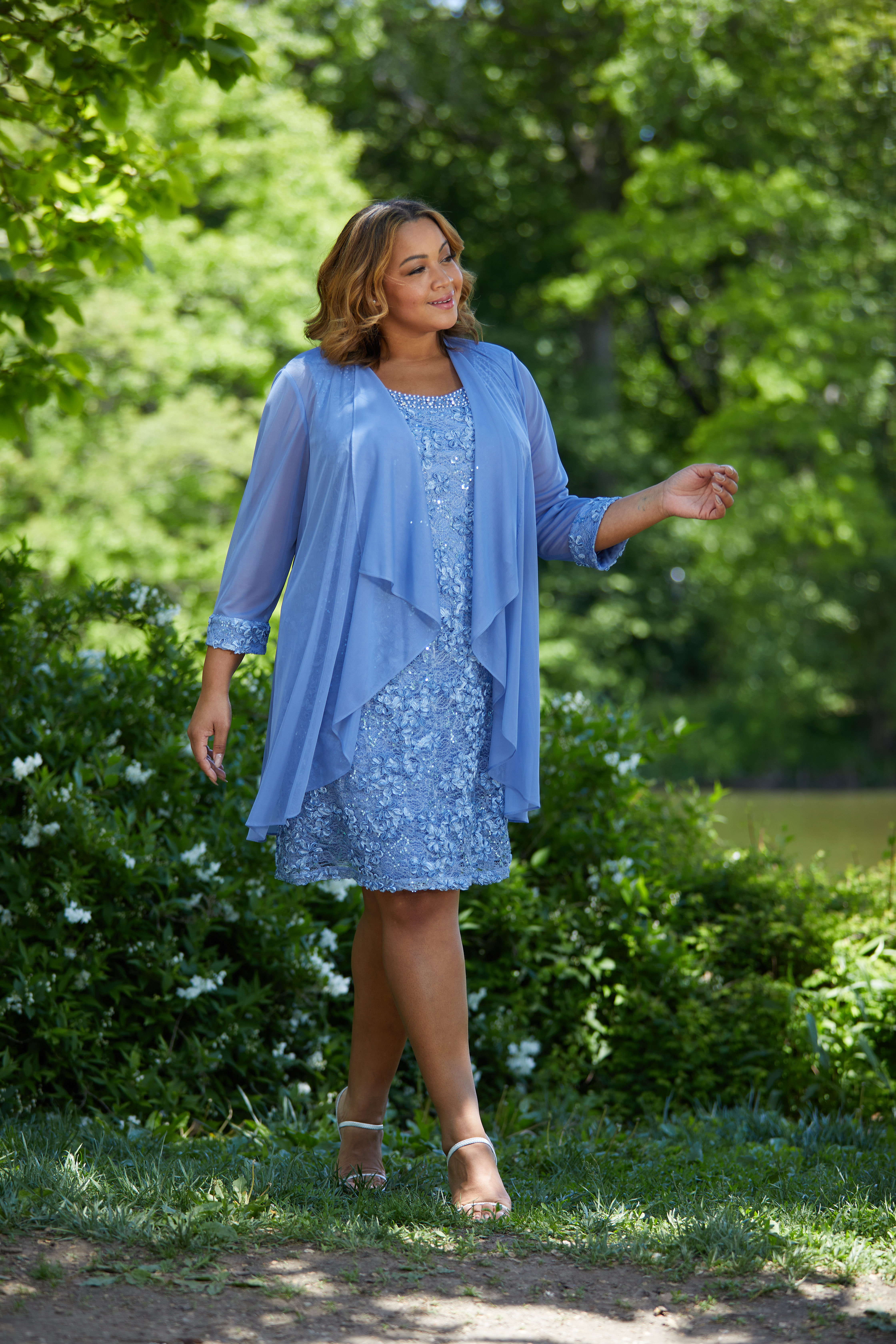 Check out our Long Sleeve Dresses Collection Today.
The best plus size mother of the bride dresses with sleeves are elbow-length, 3/4 length, or full length. Short and cap sleeve ends make you look twice as wide which is never a good thing! Choose from chiffon lace sequins to go for that summery feel in September. A perfect fit is the key to a great look. Plus size mother of the bride dresses with sleeves are an excellent choice for women who want to cover up their less than firm arms, but also need light and airy designs that will make them feel hot, not heavy.
 A good option would be chiffon or lace fabric which gives off more natural shadows when worn open. Try elbow-length sleeves instead; full-lengths look too formal sometimes however it does give nice coverage without looking overwhelming. 
A short cocktail dress is also a popular choice for the Mother of the Bride or Groom, especially if you want to show off your legs! The bonus with this style is that it can be worn again in any other event where formal attire might be called for.  
A mother of the bride who wants to feel confident and pretty should also avoid wearing a tulle skirt as it might make you look wider than usual. The only time these kinds of skirts would work is if they were made out of silk chiffon or organza. 
Choosing the right Mother of Bride dress is more complicated than you might think. You need to consider material, style, and color. We hope our guide helped make your decision easier! What are some other tips for choosing a flattering mother of the bride dress that hides the belly? Let us know in the comments below or get in touch with us, today! The Dress Outlet can help you find that perfect outfit that will make you feel confident on your special day.
If you want an elegant and stylish Mother of the Bride dress, look no further than our collection here at The Dress Outlet. We have dresses in every color imaginable for all different body types!