Celebrities at Prom
High school prom is one of the most important events in a young person's life. There is something special about it because it's a night where teens feel free to be their true selves. Prom is a rite of passage for high school students. Before they were famous, many celebrities missed out on their chance to attend high school prom.
So, imagine you're getting ready for your senior prom. You've spent the last few months getting ready for the big night: selecting your prom dress, picking out your date, and planning what you're going to do afterward. Then, imagine that one of your favorite celebrities shows up at your prom! That would be amazing! Well, it's happened to a lot of people. These are just some of the celebrities who were invited to high schoolers' proms and actually showed up! Some of these celebrities didn't get the chance to attend prom because they reached the top of their industry at such a young age. Others had to start so early that it just wasn't possible for them to have time for prom.

However, these celebrities have been invited back to enjoy all the fun and excitement that prom has to offer! Who are they? Read on to find out.
Kylie Jenner
When fan Albert invited Jenner to prom, she just couldn't turn down his invitation. The teen was so sweet and really wanted to go with her. Kylie flew out to the Sacramento area and surprised him! He was in for the biggest shock of his life.
Demi Lovato
In Kindergarten, Demi made a promise to her lifelong friend Nolan that she would go to Prom with him. Little did he know that she would actually follow through on this plan! She traveled back home to Dallas to share the special night with her friend.
Britney Spears
Unlike many celebrities, Britney Spears had the opportunity to go to her own prom! She attended her senior prom at Parklane Academy in McComb, Mississippi, in 1997. She and her date wore elegant and coordinating red gowns and tuxedos. My prom was a blast; it was the best! she told Teen Prom magazine in 1999. We went with a group of friends. We had a great time dancing and socializing.
What a throwback! We're loving that red dress and that cute curly hairstyle! 
Drake
Drake attended his cousin Jalaah Moore's prom on May 12, 2017, in Memphis. The Toronto-based rapper officially went as a chaperone, though he provided the white Rolls Royce for transportation and hosted an after-party at the local Hard Rock Café for Jalaah and 400 friends.
Justin Bieber
Last but not least, we have Justin Bieber. Teen Cady spent so much time trying to invite Bieber to Prom. He was, unfortunately, busy but invited her to come to the Billboard Music Awards with him instead!
Vanessa Hudgens
Vanessa Hudgens surprised a 17-year-old cancer patient named Cesar Guerrero at his prom in August 2014. The High School Musical star worked with The Art of Elysium, which Vanessa has worked with in the past, to throw the party for Cesar at Sylmar High School in Los Angeles. He later posted selfies of himself and Vanessa on Instagram and wrote, It was really nice to get to know you and to dance with you. It really meant a lot to me that you took your time off and came to my prom. 
Selena Gomez
Celebrity Selena Gomez attended a Children's Hospital of Orange County (CHOC) Oncology prom, an event aimed to bring a little joy to those afflicted with serious illnesses. Gomez spent the night dancing and taking selfies with teenagers who had recently gotten treatment at the hospital.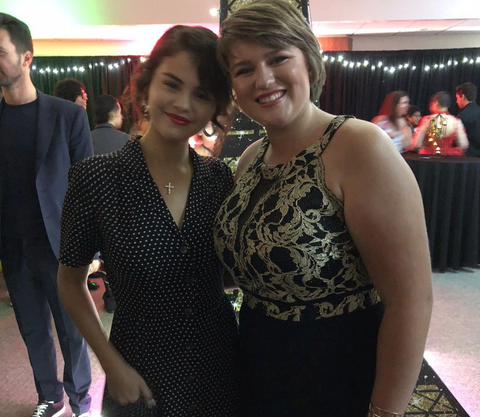 Okay, so what have we learned from this list? We have learned that many successful celebrities are just like everyone else. Some of them made poor decisions in high school, but some of them got a second chance. Some of the famous people on this list may have had no business going to prom, yet they went with a date and even enjoyed themselves. The truth is that high school is confusing enough without having a celebrity parent. It's hard work to be famous, and it can be harder to adjust to life in high school. Many people will never understand how difficult it is to be a celebrity. Even if you're famous and an easy target for ridicule by older students, returning to high school takes guts. However, these celebrities showed up at proms where they were invited and showed off their best dance moves. Fans are probably glad they did!
If you're lucky enough to land a date with your celebrity crush, be sure to document the experience for all of your friends. Have your prom fashion on point, because after all, pictures or it didn't happen! Also, regarding the entire process of asking someone to prom, homecoming, or any type of formal event, always be yourself and make sure that you have fun while doing so! If they accept your invitation, you'll be off to a great start! If not, don't take it personally! That way, you can turn around and go ask someone else who might say yes. Asking out a celebrity is no different from asking out anyone else, though. Whether it's a regular person or one more famous than you, the process is similar in terms of the execution.
If you could ask a celebrity to prom or homecoming, who would you pick?